The original AimCam Shooting Glasses were the the world's first line-of-sight sports action camera with a tiny camera that can be adjusted to sit directly above the master eye. This new and improved version provides some valuable improvements.
The AimCam Pro 2 has a state of the art Sony 1080P full HD 8MP CMOS micro-camera, with increased iris response and anti-bloom functions, helping you to capture perfect video when looking into challenging or rapidly changing light conditions. The new tighter camera lens gives a truer human eye field of view making objects/targets appear clearer and at the correct perspective. Capable of recording 1080P Full HD at 30FPS and 720P HD at 60FPS (perfect for slow motion analysis).
The overall size of the frame has been reduced to a universal fit and the nose bridge has been reduced in size allowing for a better field of view when aiming. The AimCam comes with 3 pairs of high impact interchangeable 2mm thick lenses in yellow, clear and black. These new and improved lenses also have side protection as standard, for extra protection from stray particles and BB pellets, and give full 100% UV protection.
The high quality HD video footage can either be recorded on to a Micro-SD card (not supplied) or streamed live to a mobile phone or tablet using the iOS or Android app.
Click on the link below to view some example footage taken with AimCam Pro 2 glasses: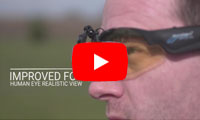 These glasses are perfect as a training aid or for tutors who want to show exactly what students are looking at.
AimCam isn't just for training though, it can also be easily set up to function as an everyday video camera to capture your whole day's shooting or other activities such as hiking or skiing etc.
AimCam Pro 2 Features:
Records in 1080p (at 30 FPS) or 720p (at 60 FPS)
8M pixel Sony CMOS camera
Wi-Fi enabled for live streaming to mobile phones or tablets
Takes up to 32Mb Micro-SD cards (not included)
1.5 to 2 hour recording time from the rechargeable lithium battery
12M pixel photo (via the app)
Internal microphone
UV protective lenses
Impact resistant safety lenses
Secure locking camera arms
iOS and Android app for use on mobile phones and tablets
Colours: Black or Camo